I got a surprise delivery today from my friend at Wall Glamour, the wall sticker people. Rick had taken one of my photos and turned it into a big wall sticker. I first wanted to put it above my desk at work, but then decided to take it home and place it in the kitchen.
Only took 5 minutes to put it up, most of that was just deciding what angle to put him at.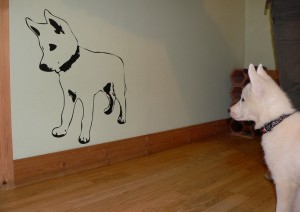 Look really cool and Benny keeps looking at it as he trots past.