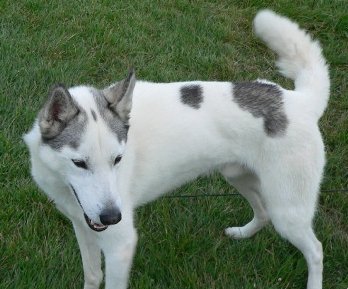 KC name: Rigrunner Morethan Lucky
pet name: Mookie
date of birth: 20 October 2004
eyes: Clear, tested January 2013
achievements: climbing onto the sofa within minutes of arriving in York. mookie's show career got off to a good start with a first in minor puppy at WELKS under Julie Baldwin. since then he also won Best Puppy Dog at the SHCGB northern open show (narrowly beaten by his sister Nike for BPIS) and Border Union. despite only being very occasionally shown he came 8th in the SHCGB Dual Championship in 2005/06. he's not been shown very often since moving out of puppy.
quickly settling into chez Redwood and narrowly escaping the name of Benny, Mookie is a real joy. he loves cuddles and always appears if one of the other dogs is getting attention. when he was younger he doted on Elvis and could usually be found wherever Elvis was, curled up next to him or squeezed into his barrel. he wasn't very impressed initially when Benny joined us, but now he is very happy to have a new partner in crime and loves chasing round the run, play fighting with him and Snowy.
For the last few years Mookie ran with his mum and Paul & Amanda's Mrs Hope, but is looking forward to running with Benny this coming season.
Pedigree:
Sire:
CH Eekonoo Zefram Cochrane
Sire:
Rajarani Kayakin of Khodies
Sire:
Amarok's Francois at Rajarani (imp)
Sire:
Dutch Ch Zoltan of Chenok
Sire:
Zodiak of Kolyma
Dam:
Chukchi's Orsakka
Dam:
Amarok's Creole Queen
Sire:
Amarok's Bjorn
Dam:
Amarok's Birgitta
Dam:
Sibirskaya Kwiksylva of Rajarani
Sire:
Rajarani Mighty Thor
Sire:
Skimarque Shareef The Snowolf
Dam:
Lady Sura of Rajarani
Dam:
Rossfort Red Pepper
Sire:
Rossfort Nureyev
Dam:
Can CH Articlights Crimson Tide
Dam:
Skiivolk Nebushka at Eekonoo
Sire:
Forstal's Aladyn
Sire:
Goosak of Kolyma
Sire:
Alaskan's Pala of Anadyr
Dam:
Oleta of Kolyma
Dam:
Green Berets Snowy Lyscha
Sire:
Alaskan's Unikkik of Anadyr
Dam:
Stanawoi's Siwaga
Dam:
Skiivolk Foolish Filly
Sire:
Charvaks Two Sioux Mato of Skiivolk (imp)
Sire:
Kaltag of Kolyma
Dam:
Charvaks Siouxie Sue
Dam:
Charvak's Kelia of Skiivolk (imp)
Sire:
Alaskans Dusty of Anaydr
Dam:
Charvak's Tyone
Dam:
Rigrunner Cirrus
Sire:
Brushbow's Maroznay
Sire:
Tupilak's Barney
Sire:
Zero's Brew of Tupilak (imp)
Sire:
Zero's Milkyway II
Dam:
Zero's Glossover
Dam:
Tupilak Kriya
Sire:
Zero's Jolt
Dam:
Zero's Glider (Imp)
Dam:
Brushbow's Kind O'Magic
Sire:
Brushbows Krasnoarmyeyets
Sire:
Forstals Aladyn
Dam:
Brushbow's Roxanne
Dam:
Brushbows Caitlin
Sire:
Whyphursts Apollo
Dam:
Brushbow Natalie
Dam:
CH Rigrunner See Emily Play
Sire:
Tupilak's Salty
Sire:
Zero's Brew of Tupilak (imp)
Sire:
Zero's Milkyway II
Dam:
Zero's Glossover
Dam:
Zero's Flutter of Tupilak (imp)
Sire:
Nekanesu's Jet
Dam:
Zero's Sugar
Dam:
Cheechako's Charadyeyka
Sire:
Ch Zoox Zachara of Gwaihir
Sire:
Ch Zoox Gadzheek
Dam:
Ch Zoox Dukara
Dam:
Tikchik Kite
Sire:
Kayak's Fido of Tikchik
Dam:
Tupilak's Kometa
Photos