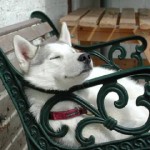 15 September 2008 will be remembered as one of the saddest days of our lives. elvis, our superstar, was taken too early from us, at the age of 8. an ordinary day started with 5 happy huskies leaving the bedroom and ended with us finding one sunbathing in the dog run with no pulse. a tumour in his heart had brought on a sudden fatal heart attack without any warning. he leaves us with 8 years of amazing memories. we've had many emails and messages from far and wide about elvis. he touched so many people with his kind ways and tom-foolery.
Simon Luxmoore wrote in Dogworld:
Recently the saddest news was that Guy and Helen Redwood have lost Elvis. This really pulls at the heart strings since he was so young. He had been trying for so long, finally succeeding, to win his title. That made him a familiar figure at shows yet he was not over shown. His final tally was five CCs and eight RCCs – he really did himself proud. It was very much a case of when he crossed the line he became very much recognised as a nice example of the breed.
It is pointless trying to understand the loss that is felt on an occasion like this but, as I have mentioned to Guy and Helen, they must cherish all those happy memories. We send them our sympathy.
The reality of his departure is still dawning on us. Helen has lost her champion show dog and I've lost half of my 2 dog race team. the arkward reality of husky ownership has meant our grief has eased and almost swept away by the four bundles of joy we have around the house. all I can do is celebrate my elvis with a smile from a memory and cuddle from his mates Teba, Baloo, Basil and his special soulmate Mookie.