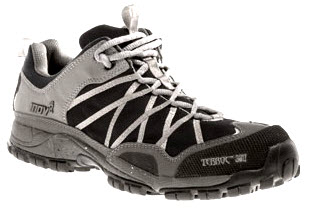 I can't remember when I bought my first pair of inov-8 running shoes, maybe 5 years ago. I'd read about them online, after wanting something that was more suited to running than my Hunter wellies. At the time, the only other alternative in the fell running category were the traditional Walsh shoe which seemed positively primitive when compared to the inov-8s. I was one of the first mushers to start using them for dryland husky racing – the combination of wet trails, mud and snow made them ideal. There's now a huge range to choose from with even more amazing features.
The first time I used them with the dogs, it was like getting four drive for your feet. You can tell that some very clever people have sat down and just simply created a range of high tech functional running shoes with the purpose to perform incredibly well on the hill. I'm an engineer that loves technical stuff done well. My inov-8 shoes easily rank in my alltime top 10 most amazing bits of tech.
I bought the terroc version because it had a stiffer sole that was stable and supportive when running on firm, uneven terrain.
inov-8 Grip
The grip is amazing – it just bites into most terrains. Just walking a few lively huskies to the start line was no longer a scary proposition. I've had many famous brand outdoor shoes that simple fail to grip in wet conditions. On the hill, there's no substitute for grip.
inov-8 Lacing
Who would have thought lacing would make such a difference? The lacing system really works. Holds your feet secure and the laces don't let go mid race. They have a variety of ways to lace up the shoes on their website.
inov-8 Feather Weight
These are really lightweight trainers. Previously, I had been running in either my hunter wellies or some apres ski boots from Salomon – so my reaction was a little predictable. Running up hills with the dogs was now a lot easier with the inov-8 terrocs as my feet felt like they'd sprouted wings. If you do compare them with other outdoor running shoes, they are really light in weight.
inov-8 Confidence
All of the above just gives you huge amounts of confidence in a race. Knowing that your feet aren't going to slide nor weigh a ton, encourages you to get off and do your bit on the hills.
They're definitely popular with the serious dryland mushers. I would also recommend them as an alternative to walking shoes if you have to walk huskies with a climbing belt. The grip and comfort make them ideal for remaining safe when been dragged along a wet, muddy path by a husky.
innov-8 are a UK company based in the Lake District; it's a pretty good testing ground for an awesome bit of footwear.