Basil
Owhachyhee Hopi
cousin to Baloo and reliably paranoid.
Mookie
Rigrunner Morethan Lucky
a determined young man, just never sure of what he wants to do.
Benny
CH Rigrunner Slider
youngest in the pack, one of the sweetest puppies we've owned to date.
Snowy
Rigrunner Cirrocumulus
joined us at the tender age of 9, our first neutered girl.
Huskies Remembered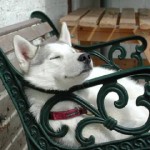 Elvis
CH Huskidoo Judder Man
our gentle superstar, taken from us way before his time.
Teba
Mikayla's Teba
our first husky and lounge lizard.
Baloo
Owhachyhee Pawnee
our alpha boy and peter pan of the pack.