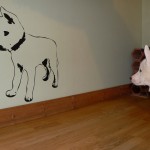 Looks like Benny is going to be famous through his vinyl wall sticker. Originally intended as a one off commission by Wall Glamour, Rick has asked if they could sell it on their site.
So if you want a lovely husky puppy sticker for your wall – just go to Wall Glamour, choose your colour and buy this original design.
If you want one of your own dog, just contact them direct and Rick will quote.